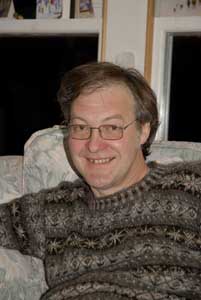 Charles
Charles Tait is based in the Orkney Islands, off the north coast of Scotland. After taking a BSc in Genetics in Edinburgh, he did a PhD in Biochemistry in Aberdeen, followed by postdoctoral time at Gif sur Yvette in France.
Sandra read French and Italian in Aberdeen, followed by a DipEd, and taught French and a little Italian at Kirkwall Grammar School, as well as being a Guidance Teacher. She was forced to take early returement in 2000 and now lives separately.
Returning to Orkney in 1977 "for a few months" the family is still there. Magnus studied Chemistry at Edinburgh University, and is currently working in the photography and publishing business with Charles. He has had two extended visits to the US and Japan to visit Wendy and family in Oregon, Thorf in Japan and Alaska with his grandfather.
Thorfinn is studied English also at Edinburgh and has spent the last five years in Akita, Japan (See Thorfinn's site). He spent three years on the JET programme, teaching English as an Assistant Language Teacher, and is now a self-employed English teacher. In April 2005 he married, Kika who is a dance and aerobics instructor.
Charles has developed his passion for photography into a business, and now travels far and wide in search of new images. The publishing and photo library aspects of the business have come to the fore in recent years, especially with the publication of many postcards and calendars plus the new Third edition of the Orkney Guide Book.


He is very keen on landscape, seacape and nature photography, especially of islands. The Picture Library of course includes all sorts of commercial subjects as well. Originally a Kodachrome fan (and still one), he moved to Fuki Velvia 6x7 or 645, although 5x4 and 70mm panoramics were also often shot.
35mm was restricted to wildlife, backups and difficult situations.
Computers have been a major interest ever since he bought his first Commodore 64. Since 2002 virtually no film has been used, especially after a Nikon D2X was acquired in 2005.
Boats are a Tait family obsession, and the family motorboat "Shaalder" will be 60 in 2008. She allows visits to the 60 or so uninhabited islands in our archipelago. Sailing is of course another great interest, now usually charter trips to places like St Kilda, Rona, Sula Sgeir and similar remote islands.
The very short summer season in Orkney makes boating difficult as we are so busy in these short months (which have long hours of daylight). However we now have marina in Kirkwall which greatly facilitates berthing.

Magnus and Thorfinn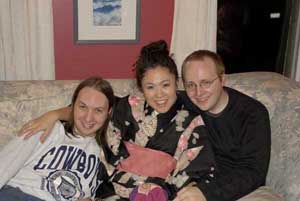 Magnus, Kika & Thorfinn
Magnus and Thorfinn (and now Kika) have for long been very keen on computer games which seem to take up much leisure time. Magnus is also a wizard at fixing and building PCs so our array of machines were all set up by him.
Nowadays the biggest problem is storing and backing up our many thousands of digital images and scans of slides. Most of our business in now the publication of these images ourseleves, but many find uses in books, brochures, adverts, websites and magazines.